Readers Of This Article, Also View:
Reduce Cost, Improve Floor Care Equipment Productivity with Training -

Sponsored Learning
Beyond Recycling: From Food Waste To Compost
Launching A Composting Program
---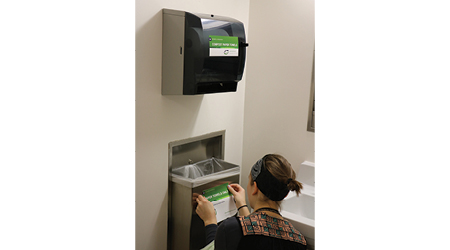 UW's food waste composting program began in 2004 with the collection of coffee grounds and pre-consumer vegetative food waste (i.e., leftovers and preparation scraps) from the UW Club and three Housing and Food Services kitchens.

In 2006, a voluntary staff compost program began whereby university staff could take food waste to outdoor collection containers provided by UW Recycling and serviced by Cedar Grove, a local composting company. When a campus customer requested participation in the voluntary compost program, UW Recycling provided them with a compost starter kit, consisting of one 23-gallon compost container with a hinged lid and a case of compostable bags to start.

MiniMax began in the campus' iconic 22-story UW Tower Building in 2008, with great success, and soon became the standard for all renovation and new construction projects on campus. MiniMax started out simply replacing deskside garbage bins — one self-service recycling bin and a small garbage bin attached. It was a model of sustainability — raising awareness about personal waste generation — and has since evolved into a campus-wide waste diversion program.

The MiniMax program has helped standardize recycling and composting infrastructure across campus, including restroom paper towel composting. When a building is converted to the MiniMax system, the entire building's waste infrastructure is reviewed by UW Recycling and Custodial Services. Bins are moved, removed or added to allow for best coverage, and set up so they are easier to service and clean.

An added benefit of the self-service model is the per-day time savings for each Custodial Services staff member, which allows for more time to be spent on essential cleaning tasks.

By 2011, the MiniMax program (for volunteered buildings and required for new/renovated buildings) incorporated the addition of centralized compost bins — serviced by custodians — as a standard component of MiniMax installation. The goal was to ensure that adequate recycling, compost and trash containers are provided in common areas so students, faculty and staff can make proper waste diversion choices.

UW Recycling piloted high-tech waste collection Solar Kiosks in a central outdoor common area in 2012. UW's Red Square has a high volume of food waste, and hosts many events year-round. The Solar Kiosk containers handle trash, recycling and composting.

In the first month of use, the total volume of waste collected in Red Square was 42 percent compostable. That's roughly 2,200 pounds of compostable material kept out of the landfill. The remaining volume was 38 percent recyclable and only 20 percent actual garbage.

The Solar Kiosk containers have several other benefits over traditional trash containers. They are higher capacity, especially since the garbage bin compacts the trash. They are closed via lids or handled buckets to prevent animals from retrieving trash and making a mess outside of the container. And they monitor capacity, so they are only serviced as needed.

All of these features save a great deal on liners, staff labor and staff transportation costs. The pilot project was so successful, additional Solar Kiosks were installed throughout campus.

The next pilot program came in 2013, when UW Recycling, in cooperation with Custodial Services, tested a restroom paper towel composting program in the Allen, Suzzallo and Odegaard libraries. In just 11 weeks, nearly 8 tons of paper towels were diverted from the landfill. Because the pilot was so successful, restroom paper towel composting became a standard element of the MiniMax program.

By 2014, the amount of food waste collected on UW's Seattle campus was increasing month-over-month as more buildings adopted MiniMax. As of March 2015, more than half of the academic and facilities buildings had adopted MiniMax, and the food waste collected from that section of campus made up 52 percent of total campus food waste collected.

Because of the ongoing sustainability efforts on campus, UW was ready when in 2015 the city of Seattle banned recyclables in garbage. The ban prohibited the disposal of food and compostable paper — which included food-soiled pizza boxes, paper napkins and paper towels — in the trash.

In response, UW Recycling added compost bins in all buildings on campus, regardless of whether the building participated in the MiniMax program. Compost bins were also added in all kitchens and break rooms, and at least one compost bin was added to each floor for public use.

Over the course of many years, the collective efforts described have supported UW's sustainability mandate. They have also contributed to UW Recycling, saving the university more than $1.8 million in annual disposal costs to date.

"Diverting our waste supports UW's sustainability goals, while providing real cost-savings to the university, and these are hard dollars that add up," says Ruth Johnston, associate vice president for UW Sustainability and Planning and Management Chief of Staff. " The MiniMax program is an opportunity to have each member of the university do their part to minimize landfill waste."


GENE WOODARD, R.E.H., is the director of building services at the University of Washington. He is also a founding member of Healthy Schools Campaign's National Green Cleaning Schools Leadership Council and serves on the advisory board for Facility Cleaning Decisions magazine.
previous page of this article:
The Benefits Of Composting
next page of this article:
Hosting A Trash Sort
Disclaimer: Please note that Facebook comments are posted through Facebook and cannot be approved, edited or declined by CleanLink.com. The opinions expressed in Facebook comments do not necessarily reflect those of CleanLink.com or its staff. To find out more about Facebook commenting please read the Conversation Guidelines.