Readers Of This Article, Also View:
Reduce Cost, Improve Floor Care Equipment Productivity with Training -

Sponsored Learning
Finding The Greener Lining
Creating Sustainable Waste Management Programs
---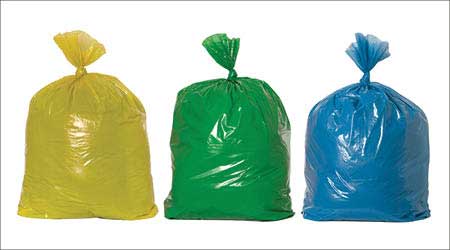 As businesses focus on building sustainable waste management programs, a number of them are assessing a once-overlooked commodity in the trash removal process: the receptacle liner. More often than not these trash bags — along with the billions of other plastic bags used every year — do not contain recycled content and are not recycled after use. In fact, sustainable liners are usually one of the gaps in facilities' green programs, according to Bill McGarvey, director of training and sustainability for Philip Rosenau Co. Inc., Warminster, Pennsylvania.

"Chemicals and paper products, as well as a lot of the equipment, speak to a departments' sustainability efforts, but liners are traditionally something we use one time and then throw away," he notes. "They're a commodity item, so price is always a concern. They're also one of the most volatile items in the cleaning industry because they're tied to the ebb and flow of the petroleum market."

While facilities will always need trash liners, cleaning departments can take steps to reduce their consumption of plastic bags and ensure that the liners they do use meet sustainability guidelines set forth by environmental standards organizations. According to McGarvey, facility cleaning managers are already moving in that direction.

"Managers are getting smarter about how they use liners and how they handle their waste," he says.

First and foremost, custodial cleaning staffs should assess whether or not a trash liner is truly necessary.

"Bags are important when facilities have wet waste," says Stephen Ashkin, president of The Ashkin Group in Los Angeles. "If there's no bag in the can, it can create problems for the janitorial staff because they may have to wash the receptacles. For a lot of desk-side bins, there's often no need for a liner because you're dealing with paper waste. But many departments tend to use one out of habit."

According to Ashkin, eliminating liners where they aren't essential requires occupant education.

"People need to understand if they have food waste they should take it to a designated location," he says. "They shouldn't just dump it into a desk-side bin."

Facilities can also benefit from right-sizing both the liners and the trash receptacles.

"One of our recommendations is to try and standardize the size of the cans around the facility, otherwise you end up with various bag sizes," says Mark Petruzzi, senior vice president of outreach and strategic relations for Green Seal, Washington, D.C. "Not only is it confusing, but you may end up using a bag that's too big, which is a waste of plastic. Also, if it doesn't fit perfectly and something heavy gets thrown in there, the bag gets pulled in with it, and then you have a mess."

Right-sizing applies not only to the size of the bag but the thickness of the liner. If the liner is too thin, it may tear, spilling its contents and creating more work for custodians. To avoid this problem, janitors will frequently double-bag receptacles.

"Departments lose money by doing that, and they're doubling the environmental impacts," says Ashkin. "And if the bag is too thick, they're again wasting money and environmental resources."
next page of this article:
Sustainable Trash Liner Options
Disclaimer: Please note that Facebook comments are posted through Facebook and cannot be approved, edited or declined by CleanLink.com. The opinions expressed in Facebook comments do not necessarily reflect those of CleanLink.com or its staff. To find out more about Facebook commenting please read the Conversation Guidelines.