B-2974 Automatic, Universal Surface-Mounted Stainless Steel Roll Paper Towel Dispenser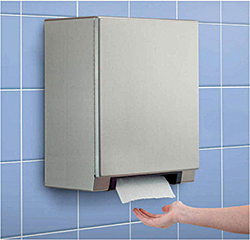 Towel Dispenser
Bobrick Washroom Equipment Inc.
Web site | Company Information
| Product Releases

The B-2974 Automatic, Universal Surface-Mounted Stainless Steel Roll Paper Towel Dispenser doesn't require dispenser leasing arrangements with paper companies that lock in long-term proprietary paper towel purchase contracts. The unit dispenses universal roll paper towels and features adjustable towel lengths and time delay.
« Product Watch
Products for the Building Service Contractor, In-House Custodial Manager, & Jan/San Distributor
PRODUCTS BY TOPIC